Hello, my sweet friends!  Oh my goodness, it feels so good to be a part of the Papertrey Countdown again!  I missed this, while I was off work for my transplant!  (In case you missed that story, you can see a video that shares a bit of our journey here.  You can also follow along with me on Instagram....I've shared lots of details there.  Even if you're not on instagram, you can read my instagram posts right here on my blog, over in the right hand side bar.)  Anyway, it feels wonderful to be back to work and to be a part of the Countdown fun again!  
That being said, it's time to kick off the Papertrey April Countdown and today, I get the pleasure of helping to introduce you to a couple of new sets in some stamp series that I'm guessing you've already fallen in love with -- the Glorious Globes and Sentiments Staples series, both designed by Lizzie Jones.  I've used them in a variety of applications today, to cover several different types of occasions.
All of the new products you're getting peeks at this week will be available for purchase at Papertrey Ink beginning on April 15 at 10pm EST.
Ok, so I'm sure you already know how trendy globes are in home decor, particularly if you can find vintage ones or ones that have really great colors or other interesting details.  So the Glorious Globes series from Lizzie is really quite clever and I love that each month, she's bringing us more images and sentiments to make these super versatile for a variety of occasions.  I've got three different cards to share with you that do just that - cover a variety of occasions - and all using a combination of the Glorious Globes: Basics stamp set and the new Glorious Globes: April set.  First up is a masculine card that could work well for a high school or college graduation or any type of work or study related situation where you might want to say congrats.  You could even give this to your grade school boy when he gets a great grade on a test or a Boy Scout when he does a great job!   
I started out with a cocoa bean card base and then grabbed some bitty dot vellum and some of the new Bitty Big Honey Nut paper, to create my background.  I rounded the top edges of both, with one of my Round Off Edger dies.  Next, I die cut a Made With Love tag from some Saffron Spice card stock, to hold my focal point and then die cut and stamped the globe and stack of books.  I love that the Saffron Spice and Honey Nut papers work so well together!
Actually, let me back up and say that initially, I just went to town die cutting lots of different sizes of globes and several book stacks, and then stamped them all up.  That way when I was ready to start assembling the cards, all of my die cuts were ready to roll.


Along the bottom of the tag, I added a strip of white card stock and stamped the two components of the sentiment (from the new Sentiment Staples: Congrats) -- one on the white strip and one directly on the tag.  Splitting the sentiment up like that, but keeping it situated closely together, makes it clear that it's all one sentiment but makes it just a bit more interesting.  It just adds another little bit of detail to help the sentiment really stand out.


Next up is a card that could really work for a guy or a girl, depending on the occasion.  I started with an olive twist card base and die cut one of the Mix & Mat: Postal layers from hawaiian shores card stock.  I wanted to add a bit of interest behind the globes, so I pulled out my Stencil Basics: Diamonds stencil and used an ink blending tool to add some new leaf ink.  
If you're scared of ink blending because you're afraid of getting harsh lines or you think it takes too much time or whatever, let me urge you to give it a try with a stencil!!  You don't have to worry about harsh blending lines at all, when the color is just popping thru the stencil.  And if you start out with a really inky blending tool sponge (which will naturally just happen the more you use those blending tools!), you can blend on a background like this in literally minutes.  Maybe even less than a minute!  It's quick!
Next, I grabbed my globe die cuts.  Like I said, I'd already stamped them when I was stamping the ones for all three of these cards.  I arranged them on the Mix & Mat layer kind of where I wanted them, so I'd know where to stamp the curved sentiment.  How great is that sentiment?  Seriously, you could give this card as encouragement to so many different people!  You don't even need a special occasion to let someone know you're proud of them!
One other thing to note about the globes is that I did a bit of ink blending on them, by stamping them first in one color (like the hawaiian shores one on the right) and then adding some additional ink in a complimentary color (tropical teal here) with a blending tool to the stamp and then stamping it again over the top of the hawaiian shores.  I did all of this in my MISTI stamping tool, so it was easy to stamp it multiple times to really add some color variation.  I did the same technique with multiple greens above, on the globe on the left.


To change things up a bit, I added the sentiment elements vertically up the side of the card.  These are both from the new Sentiment Staples: Congrats.


One last card for you today.  In case you thought globes had to just be blues and greens, allow me to show you a different look!  :)  You know I love me some pink and red together.  These images, paired with these sentiments from Sentiment Staples: Congrats, would work so well for a female graduate as well as a wedding or happy honeymoon type card!  Anyone who loves to travel would appreciate this type of card, so don't forget to think outside the box a bit when it comes to color!  This could even work for someone who's moving overseas!
I did more ink blending on these globes.  The two on the left have autumn rose blended over the pale peony layers and the land portion was stamped with pure poppy.  The one on the right has some pure poppy added over the pale peony, with a darker pure poppy star in the center.
Next, I added some die cut flowers and leaves from both Farmer's Market Florals as well as Stitching Garden.  I love how well these two floral sets work together!
All right, that's it for me today, but I'll be back tomorrow with more to share and in the meantime, you'll want to be sure to check out the Papertrey Blog for lots more inspiration featuring this month's new releases!  
Thanks so much for spending a bit of your day with me!  I've missed you, friends!
Follow me on Instagram, Twitter and Pinterest for all the latest updates.
{Job Well Done supplies -- click on thumbnails}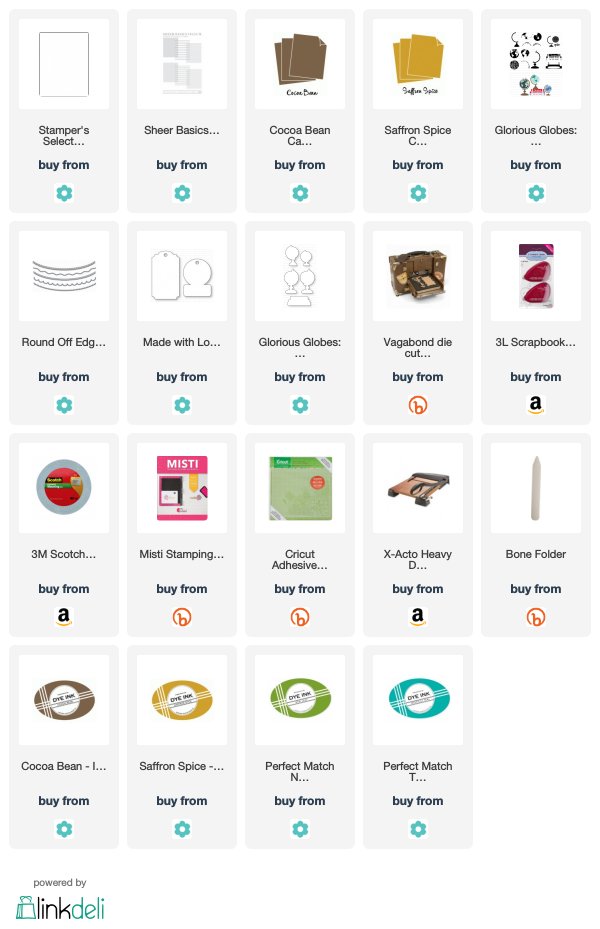 {So Proud of You supplies}
{Wishing You Every Happiness supplies}