Hello there!  I'm back for Day 2 of the Papertrey July Countdown and I've got a few more fun new products to help introduce you to today! 
All of the new products you're getting peeks at this week will be available for purchase at Papertrey Ink beginning on July 15 at 10pm EST.
(Affiliates Disclaimer: Just so you know, I sometimes use affiliate links here on my blog, which means that I participate in several affiliate programs, in which I may receive a small commission when you click one of these links and purchase a product at the corresponding product site (usually within a certain amount of time).  There are no additional costs for you as a result of these links, but by shopping through these links, you are not only supporting me and the work I do here in the Raspberry Suite studio, but you're also helping me to continue to bring you beautiful content and inspiration here at my blog, for free!  Please know that I share products with you that I use and enjoy and I make every effort to represent those to you honestly.  Thanks so much, friends, for your support!  I appreciate you!)
This first card features some new stamps and dies by Rebecca Luminarius called Yellow Sunshine and I paired them with Lizzie's newest Bold Borders: Prism die.
I stacked up five layers of the Bold Borders die cut and blended on some new leaf ink, along the bottom of the top layer.  Spray adhesive makes really quick work of gluing all the layers together.  I use Laurie Willison's trick of holding each layer with some tweezers I bought specifically for this purpose so I don't care if they get adhesive on them (because they WILL).  Just hold each layer one at a time, with the tweezers, spray the adhesive over on the die cut, while holding it over an empty box and stick each layer together.  Easy peasy.  I linked below, to the adhesive and tweezers I use and love.
I added a few of the images and sentiments from Yellow Sunshine, to my card base, with new leaf and versamark inks.  I also took the Yellow Sunshine die and cut out all of the little "petals" with it, and then stuck the tip of each one to some foam adhesive, to create my flower.  I guess this just proves that I'll probably try and make a flower out of just about anything!  lol.
Lastly, Heather has a new set this month, called Banners & Pennants.  The images coordinate with a new die set this month, as well as the previously released Pennant die, so I used both here.  I used all stamps from Banners & Pennants, as well as some Cover Up: Grid on both the die cuts.

I also used some of the new Berry Sorbet bitty big paper for the background.
Be sure to check out the Papertrey Blog for lots more project inspiration!  
See you tomorrow!
Follow me on Instagram, Twitter and Pinterest for all the latest updates.
{hello Sunshine supplies -- click on thumbnails}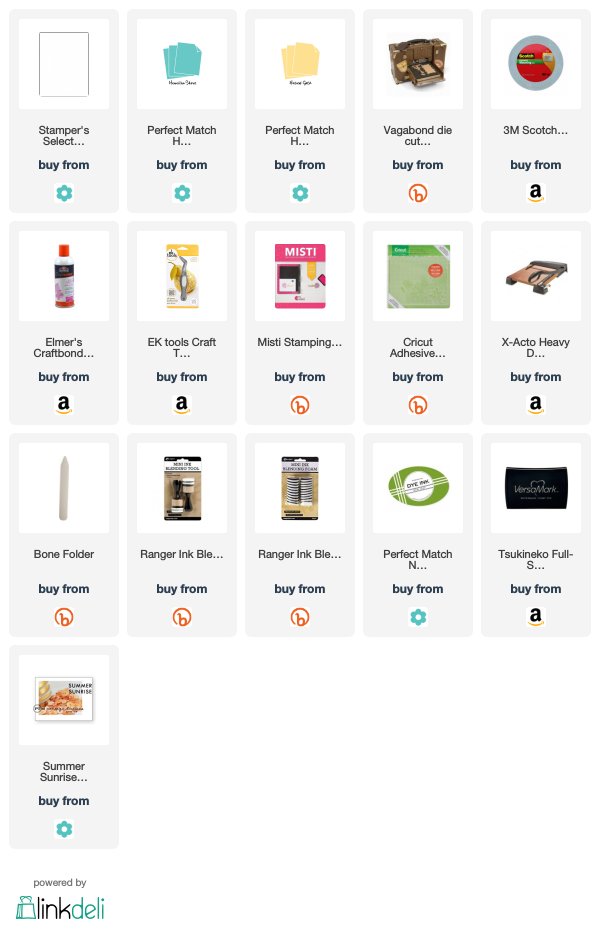 {Explore supplies}