Good morning, friends!!  
I'm back for another day of projects featuring brand new products designed by my dear friend Betsy Veldman, that will be available soon at her new stamp store called The Greetery (The store will go live at 10am ET on Friday, April 26.)!!  As I told you yesterday, you'll want to keep an eye out at The Greetery Blog, for lots more sneak peeks!  
I'm so grateful she asked me to help showcase these products for her first product release, because MAN, would you just look at these flowers?!!!  This is a new stamp set and coordinating dies, called Fleur Impressions and I loooooove it!  Not even kidding.  I've done a LOT with this set already.  You're just gonna see two of the cards I've made today, but stay tuned because I've got more craftiness coming your way soon, involving these beauties and lots more!
So, to get started, I just stamped and die cut a ton of these flowers using a few Taylored Expressions inks.  I love how they look together!  After mounting the flowers to the card front, note that I trimmed off the bits that were sticking out along the left side and bottom of the card.  The ones on the top and right, I left alone to stick out!
The sentiment is one from the new Comforting Commands stamp set....such a great verse.  There are several large, hand-lettered verses like this one included in the set. 
Here's another of those Comforting Commands verses....paired with more of the Fleur Impressions flowers!  And what a fun color combo, yes??  The flowers were stamped with Dijon ink from Taylored Expressions.....I just stamped it off once before stamping the first layer, and then stamped the overlay detail layers at full strength.
Up there on the card base background, I used the Fir & Foliage No. 1 tree stencil, with some light gray ink, to create a bit of interesting detail around the flowers!
That's it for me today, but remember to check The Greetery Blog for today's sneak peeks from Betsy!  Plus, there's another group of friends helping to introduce these new products today, so be sure to pay each one a visit, for lots more inspiration!
Dawn McVey
Keeway Tsao
Laurie Schmidlin
Amy Sheffer
Have a great day and I'll see you back here tomorrow, friends! 
Follow me on Instagram, Twitter and Pinterest for all the latest updates.
(Affiliates Disclaimer: Just so you know, I sometimes use affiliate links here on my blog, which means that I participate in several affiliate programs, in which I may receive a small commission when you click one of these links and purchase a product at the corresponding product site (usually within a certain amount of time).  There are no additional costs for you as a result of these links, but by shopping through these links, you are not only supporting me and the work I do here in the Raspberry Suite studio, but you're also helping me to continue to bring you beautiful content and inspiration here at my blog, for free!  Please know that I share products with you that I use and enjoy and I make every effort to represent those to you honestly.  Thanks so much, friends, for your support!  I appreciate you!)
{Be Still & Know supplies -- click on thumbnails}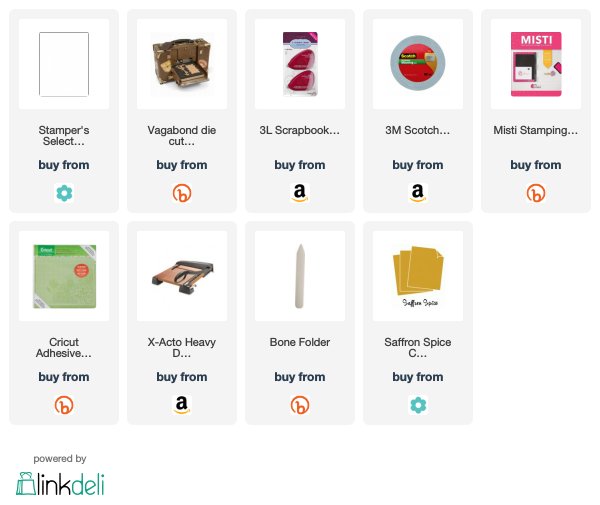 {Let Us Rejoice & Be Glad supplies}